Happy Friday everyone, the weekend is in sight (even more so here in Australia) and it's time for the best of Kirsty's week on the web! I've changed the name from last week's rather unimaginative "Friday Further Reading".
Freaky FourSquare Creepout
Foursquare is a bit of a mystery to me. Of course this is not helped by the fact that I don't own a mobile phone. However the experience that  Shea Syliva had back in July might make you think twice about how you use it.  Creepy stalker type stuff.  Turns out there really are some nutters hanging around on the internet…
Sell Your House The Affiliate Way
Shawn Collins' rather beautiful house is on the market, and in typical affiliate style he's delving into the sales process to try and generate a few targeted leads of his own. Personally I think a lot of Real Estate agents could learn a lot from this sort of highly targeted approach.
Itchy Owie Caterpillar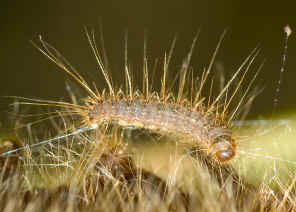 It's been a while since I mentioned a creepy crawly experience. To be honest I'm getting used to all the critters here in the sub tropics.
However this week I made the startling discovery that if something as benign as a hairy caterpillar should land upon one's unwitting neck  it can lead to several days of unfortunate itching and burning. Yes, that's right. In Australia even caterpillars have poisonous bits on them.
Their official name is the processionary caterpillar (and god help me if I end up with enough in my garden for them to have a parade!) but I've re-christened them "The Itchy Owie Caterpillar" because that's pretty much what they seem to create. General itchy owieness on unfortunate female affiliate marketers taking time out for reflection and a cuppa under a nice shady tree in their garden. Hmph.
Good Guy Of The Week Award
Thanks to Edwyn McFarlane of Affiliate Window who kindly dropped me an e-mail and sent me over some deep links after seeing a frustrated Tweet from me after things went a bit awry for me when I was trying to grab some links on the Awin affiliate interface.  Good to see them and some of the other networks engaging with their affiliates in this way. Thanks Edwyn!
Beware WordPress Theme Functionality
It turns out you really can have too much of a good thing with WordPress theme functionality. This post from Joost De Valk highlights how using  functionality to alter things like titles and descriptions which is included in a theme rather than adding yet another plugin to your setup can end up causing you unneccessary hassles.
Of course in my own case that hasn't helped much – I currently have a 1,100 page wordpress site which has a broken SEO plugin meaning I can't edit my existing carefully crafted titles and adding a new plugin will probably delete the lot. I've tried screaming into a bucket of water, but to date that solution has been unproductive.
And Finally…. Why Working At Home Is Both Good And Shit At The Same Time!
Want to see the truth of life after going full time as an affiliate? Check this out. And you thought it was all fast cars and glamour!
Have a good weekend everyone